Description
Holý Romance op. 14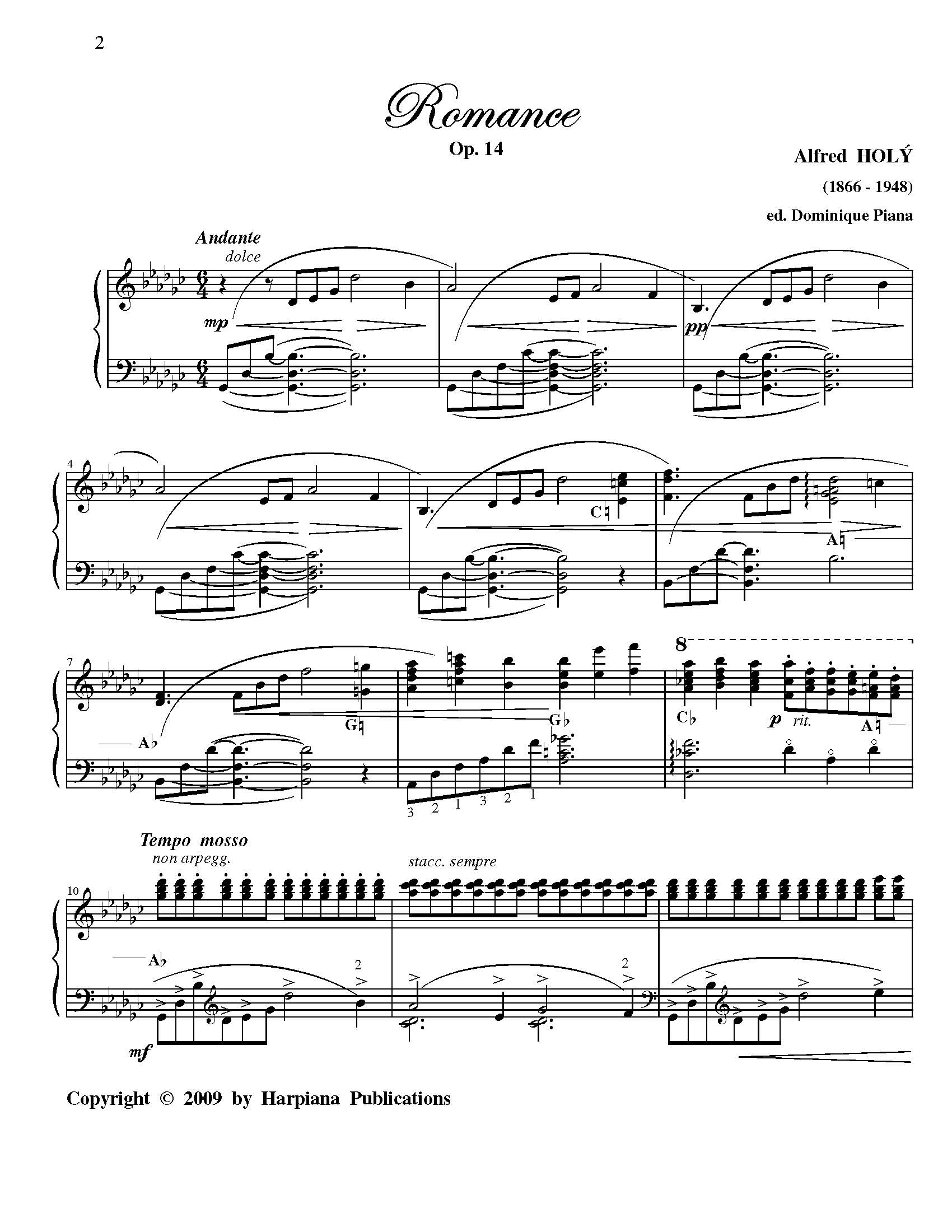 Among harpists-composers, Alfred Holý was considered the "last of the romantics", as he decidedly continued to write in a late-romantic idiom uniquely his, well into the 20th century. Most of his compositions stand out for their melodic invention and unique "turns of phrase" rather than technical innovations.
Holý was born in Oporto, Portugal where his Czech father was hired as a bandmaster, but grew up mainly in Prague. After studying violin and piano from childhood, he chose the harp as his main instrument for professional training at the Prague Conservatory.  Soon he distinguished himself as an orchestral musician, first in Prague, then in Berlin where he joined Poenitz and Posse at the Imperial Opera Court Orchestra. He became known as "Mahler's favorite harpist" when the composer-conductor pursued him to join the Vienna Court Opera under his directorship. Always eager for new musical adventures, Holý later moved to the United States to play with the Boston Symphony (under Muck) and teach at the New England Conservatory. Upon retiring, Holý and his wife reluctantly moved back to Austria, because their two sons were never able to join them in the New World. While, as a Czech national, he safely escaped the shunning of the German musicians during World War I in America, the Second World War (and its aftermath) was not kind to him and his family, and he spent his last days in Vienna in dire circumstances.
Romance starts out rather nonchalantly… A haunting tune rises and falls, then the tempo quickens and the expression deepens, as the melody asserts itself against the backdrop of a quivering RH drone. Rapidly changing chords will test the player's musicianship, as they don't fit a predictable pattern. A transition set entirely in harmonics introduces a long bisbigliando section. The beginning theme reappears, enhanced by arpeggios, glissandos and intricate trills. A sweet piece of technical and emotional magic…a perfect encore-type piece for recitals or a featured solo at the wedding.